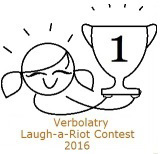 Updated!
And the winner of the FREE category is...
Monica Graff, for her essay The Doubts at the Door. Congratulations Monica!
This is what the judges had to say about Monica's submission:
"Talking to your characters or your fears is a fairly common idea, but this version is very nicely done. It's well written and gets the concept across in a piece that actually has a beginning, middle and end."
For all the humour writers out there, here're some general comments from our judges to nail that humour:
"1. Remember to write a great opening paragraph that is also funny so that the reader is not only engaged, she is clear of the tone of the piece.
2. With comedy, make sure to close with a big laugh.
3. Keep in mind some of the basic rules of comedy to boost the funny. For example, the K Rule, the list of three, comparison jokes and definition jokes."
If you're a Verbolatry subscriber, you receive all the news hot off the press. You can subscribe here.
Thanks for joining us for a great fun-filled contest! Keep an eye out for next year's!